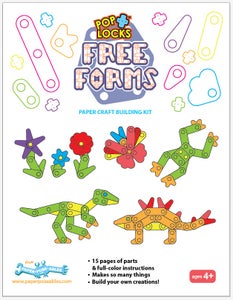 $

4.99
Start creating right out of the pack!
Make animals, robots, flying toys and paper crowns and jewelry with Poplocks Free Forms - an exciting building toy made from colorful sheets of card stock - each pack contains 15 pre-cut sheets - enough to let you jump right into building!
Every pack has 12 sheets of Basic Shapes (15 fun & functional shapes per sheet), and 3 pages of Poplocks Connectors - 70 Poplocks per page (good for 35 strong connections). 3 bright colors in each pack!
Packs come in different colors - choose your favorite:
Cool Zap (Bright Blue, Neon Yellow and Light Green)
Pinkermelon (Carmine, Neon Green and Neon Magenta)
Grapevine (Green, Violet and Gray)
Purpleasing (Light Blue, Plum and Orchid Pink )
Warm Zing (Orange, Deep Teal and Tomato )
---
Price: $4.99 + shipping
---
Recommended for ages 4 and up.
Ships within the United States via USPS envelope.
---
Visit paperposeables.com to find ideas and instructions for building your own creations!