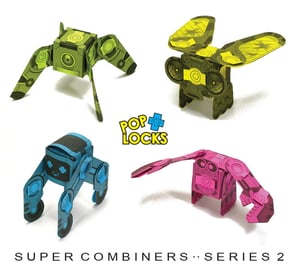 $

2.00
((( DIGITAL FILE -- Sent to you via email )))
The second set of Poplocks toys is ready to build! Four new robots are easily assembled when printed out on thick cardstock and cut out. NO GLUE needed!
Swap parts from each robot to create your own custom creations!
---
Here are the templates you receive:
- GRP-S ("Grips", the crab bot)
- PST-R ("Pester", the grimy fly bot)
- WE-LE ("Wheelie", the happy-go-lucky roller)
- RK-ND ("Rachnid", the spider bot spy)
You also get a convenient copy of ZP-R ("Zipper", the smiley fly bot) and an extra page of parts to help you quickly create larger creations.
What You Need:
- Printer
- Card Stock (65 lb. or higher)
- Scissors
- Craft Knife or Hole Punch to remove holes
Visit Paper Poseables.com to grab the Super Combiners Instructions!
---
You will receive your PDF file, sent to your email address within the same day as your order. Make sure you have everything you need to open and print the file.